Flood Bags
Sale
Sale
Original price
$19.99
-
Original price
$800.00
Flood Bags
Quick Dam Flood Bags/Sandless Sandbags absorb, contain & divert problem flood water. Flood Bags absorb, swell and gel oncoming water on contact to create a durable barrier. Flood Bags are compact, lightweight and easy to use. Perfect to keep stored away until needed. Keep your home and property protected from the dangers of flooding. They come in standard 1ft x 2ft sizes and jumbo 1ft x 4ft sizes.
Description
Water Activated Flood Bags (Sandless Sandbags) – Just get them wet
Bags grow to 12in x 24in x 3.5in high
No need for sand or labor, filling sandbags
Absorbs 4 gallons of water and grows to full size 3.5in high in 10 minutes
Contains a super absorbent powder that swells and gels water
Swelled bags contain, control, and divert flood water
Stack multiple bags in brick formation to increase wall height
Leave in place for ongoing protection and use
Safe, non-hazardous, non-toxic
Environmentally friendly and decomposes over time
Available in 2pk, 6pk, 20pk, & 120pk
Not for use with Salt Water– a chemical reaction causes deflation
Flood Bags

 

are also sold in convenient Grab & Go Buckets
Jumbo Flood Bags
Twice as large as the standard water-activated Flood Bags.
Jumbo Flood Bags grow to 12in x 48in x 3.5in high
Absorbs 8 gallons of water and grows to full size of 3.5in high in minutes.
Comparing Flood Bags & Barriers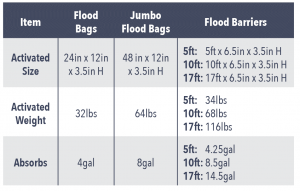 Lead Times
Most products ship within 1-3 business days depending on availability. If you need a product sooner than this, please call 409-429-4834 to discuss availability and shipping options.